Wholesale partner application + FAQ
---
Wholesale FAQ
1 • Classic
LUXE LETTERPRESS AND FOIL INVITATIONS HAND CRAFTED FOR THE CLASSICALLY TRADITIONAL COUPLE
$395.00
2 • Of the Moment
LUXE LETTERPRESS AND FOIL INVITATIONS HAND CRAFTED FOR THE MODERN COUPLE
$395.00
3 • Signature
DIGITALLY PRINTED INVITATIONS HAND CRAFTED FOR THE CASUAL COUPLE
$295.00
4 • Vintage
LUXE LETTERPRESS, FOIL AND VELLUM INVITATIONS HAND CRAFTED FOR THE MODERN COUPLE WITH A SUBTLE VINTAGE FLAIR
$395.00
5 • Essentials
DIGITALLY PRINTED INVITATIONS HAND CRAFTED FOR THE CASUAL COUPLE
$295.00
6 • Correspondence
LUXE LETTERPRESS, FOIL AND DIGITAL STATIONERY FOR INDIVIDUALS AND BUSINESSES
$295.00
Inspo Box 1
BOLD BOTANICAL
ENVELOPE LINER SET
$60.00
Inspo Box 2
ROMANTIC WEDDING INVITATIONS FEATURING NEW FORMATS WITH FOLDERS, POCKETS AND RIBBONS
$60.00
Inspo Box 3
DREAMY WEDDING INVITATIONS HAND FEATURING HANDMADE PAPER AND WAX SEALS
$75.00
Smitten Little
Luxe announcement and invitation suites designed to grow with your little one.
$0.00
Information about each album
What is the pricing per suite?
The suites in our luxe albums range from $18-$32 per suite based on 100. This includes invites, liners, rsvp cards, envelope printing and enclosure cards.

The suites in our casual albums - Signature and Essentials - are approximately $15 per suite based on 100. This includes invites, liners, rsvp cards, envelope printing and enclosure cards.
Is there a discount for purchasing multiple albums?
No, there is no discount for purchasing multiple albums. Our line is a curated collection of luxe invitations that are meticulously designed and hand crafted by our team of experts. We aim to build lasting relationships with our wholesale partners and customers by creating the most beautiful invitations available. We consider our albums an investment in that relationship.
Do I need to purchase the Design Library?
The Design Library is a required initial investment if you are purchasing a luxe album - Classic, Of The Moment, Vintage, Correspondence or Inspiration Boxes. You do not need to purchase a Design Library if you are only carrying the Signature or Essentials album. However, we do suggest you purchase this as it is a great selling tool for customizing and designing.
What is included in the Design Library?
The Design Library is a great investment that contains artwork, resources and materials from our in house team of artists. You won't be able to find the content anywhere else. It includes watercolor and hand drawn crests, wreaths, branches and illustrations; motifs, monograms, frames, envelope liners, paper colors, letterpress and digital ink colors, foil colors, paper swatches, finishing options and policies.
My customer likes a design from an album I do not carry, can I order from that album?
We do ask that you own the albums that you would like to order from. This helps to avoid any confusion or misunderstanding when customizing the invitations. You can always use the resources in your Design Library to build a custom invitation.
How custom are your invitations?
Completely custom! We can help you build an invitation from scratch. It is also easy to change fonts, ink colors, paper stock and artwork. Any invitations you see in our albums can be modified or customized. Some specific artwork, like watercolor florals or greenery, cannot be changed. But we are more than happy to find a similar piece of artwork that accommodates your needs.
What is the wholesale split?
Our wholesale split is 50/50.
When will the albums ship to me?
Albums ship out approximately 4-6 weeks after order date. If you would like to receive your album sooner please inquire about timing.
What is your turnaround time?
Proofs - You will receive a full color PDF proof of your order via email within 2 business days.
Production - Digital orders ship within 7-10 business days. Letterpress/Foil orders ship within 10-15 business days.
PLEASE NOTE - This does not include shipping time.
How do you charge me for the order?
Once your order is approved to production, our team will send you an invoice for the full order. All orders must be paid before they can be shipped. We do not accept any Net terms at this time.
What is an inspiration box?
Our Inspiration Boxes are filled with samples from some of our favorite invitations designed throughout the year. We love getting fresh inspiration and we have discovered that unique samples and fun displays are so helpful for boutiques.
Why are Smitten invitations so special?
As retailers ourselves, we have quickly learned what couples are looking for when designing their wedding suite: a unique invitation that reflects their relationship as well as their hopes for a perfect wedding day and beautiful marriage. We are so excited to partner with other retailers to bring this experience to couples all over the country. We want selling our invitations to be as enjoyable as possible and we are here to help in every way!

Over the past five years we have become known as a source for beautiful paper goods that are fresh, feminine and classic. We understand that the modern bride wants to feel beautiful, accomplished and just a little bit fancy. The Smitten girl is stylish with a touch of the feminine, but never too fussy. Wit, wisdom and practicality are her shield and sword. Our classic design sensibility and modern interpretation of current trends helps us to continually create impeccable designs.
Can you tell me a little about the company?
Smitten on Paper has been designing beautiful invitations for couples all over the globe through our online boutique and brick and mortar shop for over five years. In 2015 we launched our line of paper goods and greeting cards that can be found at retailers like Anthropologie, Paper Source, Magnolia Market and stationery boutiques across the country. We are so excited to introduce our line of luxe invitations for wholesalers. As always, our products are designed and printed in our Monrovia, California studio so we can ensure each item is beautiful and useful, down to the very last detail.
Shipping
We ship via FEDEX from our Monrovia, California studio. Orders shipped ground can take up to 7 business days to reach you depending on your location.
We offer flat rate shipping for ground and expedited shipping. Please see the transit times below for reference. We are not responsible for any delays on the part of Fedex due to unforeseen circumstances. Any questions or concerns may be taken up with Fedex customer service at 1-800-463-3339.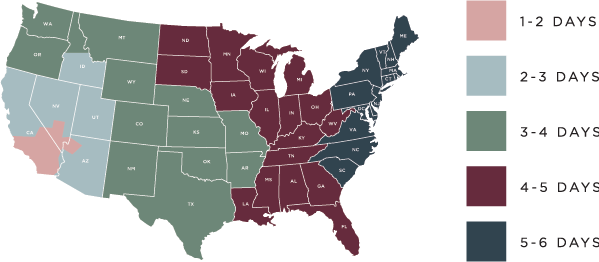 Rush services
Rush services are available at additional cost. Please inquire about schedule availability before submitting a rush order. PLEASE NOTE: shipping time is not included.

PROOFS: 1 business day / $50.00

STANDARD RUSH: 20% of retail total
Digital: 5-7 business days
Letterpress/Foil: 7-10 business days
PREMIUM RUSH: 40% of retail total
Digital: 4 business days
Letterpress/Foil: 5 business days
Errors
Smitten on Paper is not responsible for any errors found after proofs are approved. If you find errors after your order has been printed, we cannot offer a refund and we do have to charge for reprinting. We certainly do not want this to happen so we encourage you to review all details in your order and have someone familiar with the order proofread each piece before submitting your approval.
Ordering
Once you submit your application and are approved as a paper goods stockist you can register for an account that we will designate as "wholesale". All paper goods products will reflect wholesale pricing and you can order directly from our website.
If you prefer to discuss your order over phone or email please get in touch. Our wholesale team will be happy to help make any recommendations or suggestions for your shop.
626.795.1522
wholesale@smittenonpaper.com
Opening Order and Reorder Minimums
$200 minimum for opening orders
$150 minimum for reorder
Minimum Order Quantities
Greeting Cards - Min Qty 6
Boxed Notes - Min Qty 4
Notebooks and Notepads - Min Qty 4
Turn Around Time
Our typical turn around time is 2-3 business days from your order date. However, turnaround times may vary. Please contact us regarding your delivery date or order status if you have any questions or concerns.
Shipping
We ship from our warehouse in Monrovia, California. Delivery times will vary depending on your location, typically between 2-5 business days. Our shipping carriers are:
• Domestic: FedEx Ground Service
• International: FedEx International or USPS Priority
Please notify us of any time sensitive orders. Expedited shipping is available at an additional cost. Smitten on Paper is not responsible for any carrier delays. Any duties or customs fees are the responsibility of the retailer.
Rep Groups
We work closely with our rep groups to provide the best experience possible for our paper goods wholesale partners. Please check here to see if your store or boutique is in a territory covered by a rep. They will be more than happy to show our cards, notepads and desk accessories in person. They are experts in the stationery field and are more than happy to make recommendations for best-sellers, products that will work in your store and items that compliment your existing inventory. 
Territory Protection
We do not offer territory protection at this time. If you have any concerns about this please give us a call to discuss. 626.795.1522
Thank You
We know there are many buying choices for retailers and we want to say a genuine thanks for choosing Smitten on Paper to be a part of your store! xoxo
Back to top